Management/Consultation Service, Web Page Design & Non-domain Hosting, URL Submission Service.

Disk Works of South Jersey
535 Whig Lane, New Jersey 08028
Call: 609-932-4471
Personal & Small Business
Management / Consulting Service,
Web Site Design & Promotion,
Photo, Negative & Doc. Scanning & Imaging
& Wholesale / Retail product selling
We are into a little bit of Everything
If you don't see it, just ask
Todays Date/Time
OUR MISSION:
Is to provide affordable Mamagement, Consultation, Web Page Design, Hosting & other related services.
We design Personal web pages and Small Business web sites.
We do not offer the most dynamic web pages, just pages that are easy to navigate through so your customers / visitors can find the information or products they are looking for in the least amount of time.

We Cater to Small Business
No job is too big or too small
Private, Adult and Commercial work welcome


Promote your Business on the World Wide Web where all Businesses are created equal

Some of our Services:

CLICK BELOW TO GET 5 FREE LISTINGS ON US: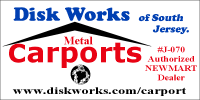 Phone (Voice Mail): (609) 932-4471

Disk Works of South Jersey
535 Whig Road
Glassboro, New Jersey 08028-3404

We accept Pay-Pal for our services, the payment web address is: webmaster@diskworks.com


Copyright © 1996 - 2013 , Disk Works of South Jersey
ALL RIGHTS RESERVED