Disk Works of South Jersey "Internet Web Services" / Web Page Design , Hosting & Web Related Services.
Todays Date/Time
No job is too big or too small

Private and Commercial work welcome


Adult Material Accepted


Disk Works

of South Jersey


Internet Web Services
Page Design & Non-domain Hosting
(What Do You Need Done Today ?)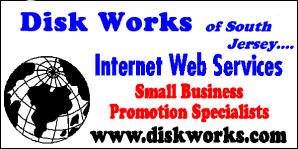 (We Do It All Start To Finish)
Need a Home Page or Mini-Web Site ?
You came to the right place.
Choosing a Web site designer is probably the most important decision you will make in getting your business onto the Internet. The are literally thousands of Web design companies to chose from, but if your a new business, or an existing small business owner you will be looking for the quality of the work, but your decission on which company to go with, 95% of the time, will be their PRICE.
Disk Works of South Jersey Web Page Developers can create an on-line presence for your company or organization at a fraction of the cost of other major companies..
You need to make sure that you choose a company that will take the time to understand your business and its needs before starting the project.
Disk Works of South Jersey can design pages that can give maximum exposure for your company on the internet. We offer high quality, low cost service in web page design to help you establish a presence on the World Wide Web.
The Internet is an effective and highly affordable advertising medium. Even if your a small company just getting started you can compete with the companys spending a small fortune when it comes to the Web. You can depend on Disk Works of South Jersey to create web pages that effectively organize your information and communicate your goals in the form of custom web pages.
No one knows your business better than you do, and our business is the web, we will design Web Pages to get you the results that you want...
Graphic's can be all important when designing a web page. Too little graphics and the page may be considered boring. Too much and no-one will wait to see your page load-up!
Don't be fooled . At the end of the day if the content is good, and your site has useful information, people will visit it and come back again and again.
---
Our Company offers
Full color scanning of your supplied photos, logos, etc. (.gif & .jpg formats)
You supply us with all the information you want on your page in the form of Text...
We announce your page to all major WWW search engines (Yahoo, Lycos, WebCrawler, etc.)
(Click here for list)
We include custom or stock graphics (bullets, lines, buttons, backgrounds, clip art, icons)
We will research sites/pages on the Web for Businesses or services similar to yours. We will locate related web pages (for site ideas, comparisons, and possible link exchange)
Your choice of page colors (background, text, links) and/or use of stock backgrounds..
Your choice of web graphics from Disk Works stock or other web ready graphics found on line.
---
We make up home pages for personal & business use .
We design mini-web sites (Opening page with 2-3 support pages).
We have a large quality of Web ready clip art.
Photo scanning done (on site) for your pages.
Custom printable order forms available for your products.
We also have printable coupons for your small business needs.
You can sell products, crafts, or promote your business on the Internet Classifieds.
Banner ads designed and advertizing available on prime pages.
Have your home page or mini-web site hosted on our Company.
URL Registration Service available..
Find your way around

Phone (Voice Mail): (609) 932-4471

Disk Works of South Jersey
187 Clayton-Aura Road
Glassboro, New Jersey 08028-3404

We accept Pay-Pal for our services, the payment web address is:
webmaster@diskworks.com
| | |
| --- | --- |
| Use Pay-Pal to pay anyone on the Internet with a valid e-mail address. | |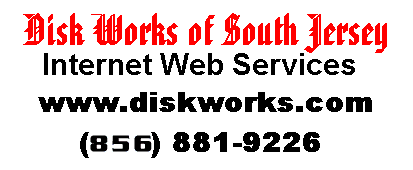 Copyright © 1996 - 2002 , Disk Works of South Jersey
ALL RIGHTS RESERVED